Cart without products available
I have read and accept the terms and conditions
Complete purchase
Taxes included for Portugal
Login
New Account
Recover Account
If you already have an account at our store, enter your login in the form below
Discover a place with all the TIME for you.
Marcolino Relojoeiro is the main reference in the city of Porto for those who demand quality and excellence in watchmaking and jewelery. This does not happen by chance. In fact, for more than 96 years, Marcolino was a witness and protagonist of the evolution of a city that, like few others, knew how to combine tradition and modernity, being today a true center of cosmopolitan lifestyle.
Whoever has PORTO in their hearts could only be in the heart of the CITY.
Elegance, sophistication and exclusivity. These are values common to all our spaces where you will find one of the most wide offerings in watchmaking and jewelery, covering all segments. So, for your desires to be covered, we are right in the center of the city.
96 Years of History and Experience
1926
António Marcolino, opens the first watchmaking, in Rua de Santo Ildefonso, giving it the name that persists today.
1937
Marcolino watchmaking passes to number 130 on Rua de Passos Manuel, in the heart of Porto, illuminating this emblematic street of the city with a special glow. As it still happens today, it starts by displaying on its facade a clock that became the exact time guide for all those who passed that busy artery.
1962
The watchmaker Marcolino meets a new owner, Adriano Magalhães who, however, maintains the brand and expertise in quality watchmaking.
1970
Goldsmith José Moura acquires the company and, driven by his entrepreneurial spirit, carries out the first major aesthetic and functional renovation of the store.
1980
Another change of owners, with the acquisition by the Neves family, and a new remodeling of the store, with a new commercial space and the introduction of after-sales service. It was in the glory years of Swatch watches, when Marcolino was the only store in Porto to offer even the rarest models of the brand, which made it known among collectors.
1991
The Neves family acquires an old adjoining stamp shop and transforms it into a new commercial space, which opens in April of that year, in an expansion process imposed by the company's growth rate and market recognition. The futuristic vision of its managers leads the company to expand its product range, targeting it to a top segment, through the representation of prestigious high watch brands such as Vacheron Constantin, IWC, Omega, Piaget, Cartier, Breitling, among others. The technical assistance service is also reinforced at this time by an experienced watchmaker, in order to respond to all the demands of a growing market.
2011
A third commercial space is acquired, located a few meters below, on the same street, on the corner with Rua de Santa Catarina. It is a charismatic space, located in a building classified as architectural heritage, in a trendy and cosmopolitan area, which displays an imposing facade, with new art characteristics, which gives the new Marcolino store a renewed dose of charm and sophistication.
2014
In July, there is a great turning point with the return of Paulo Neves, after 15 years, to the management of the company. A process of renewal and rebirth for the Marcolino brand that does not forget, however, the tradition and know-how of almost 90 years in watch and jewelery and which, in turn, brings the experience and solidity of Aquaverdi, created in 2006 by Paulo Neves. With a new image and a more universal and sophisticated language, following market trends and the demands of a more informed and increasingly international consumer, the new flagship store is born, which proudly displays the new shop in shop of Rolex and major brands of fine Swiss watchmaking, as well as some new names in international jewellery.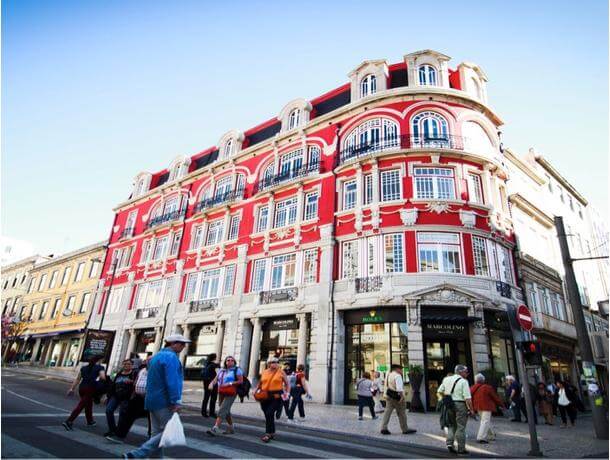 2016
In the year of celebration of the 90th anniversary, proceed to the restoration of the facade of the building that receives a Marcolino watchmaking. An intervention that accompanied a wave of recovery and rehabilitation of the historic area of ​​Porto and transformed Marcolino and his urban surroundings into a focus of attention and objectives.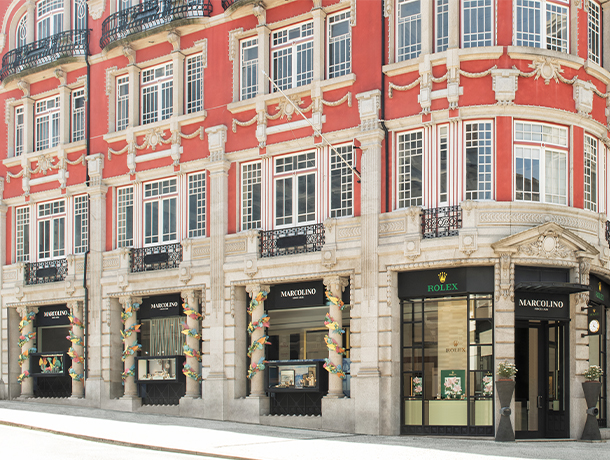 2021
5 years away from completing 100 years of existence, Marcolino decides to innovate once again and reformulate its store, at Rua de Santa Catarina 84, in order to continue to welcome its customers with all the charm and comfort they deserve.
1926

1937

1962

1970

1980

1991

2011

2014

2016

2021